Skip to main content
It looks like you're using Internet Explorer 11 or older. This website works best with modern browsers such as the latest versions of Chrome, Firefox, Safari, and Edge. If you continue with this browser, you may see unexpected results.
Welcome ECCE 227 Students!
Step 1: Background Research
How Children Learn (New Edition)

by

Publication Date: 2014

An ideal introduction to the pioneers of educational theory for anyone studying childcare, child development or education - whether at further or higher education level. (From Abstract).
Step 2: Find Books and Ebooks
To search for books, begin by going to the library's OneSearch (https://onesearch.hvcc.edu) next select Advanced Search to the right of the search box. To search only for print books and ebooks:
Select HVCC Catalog
Enter name of Education theorist or Education theory (search terms)
Select Books/ Ebooks under Material Type
Enter Search
Step 3: Find Journal Articles
Education Source

Collection of full-text education journals, providing scholarly research and information for education students, professionals, and policy makers; covers all levels of education — from early childhood to higher education — as well as all educational specialties.
Begin by searching in the research database Education Source, if you struggle to find articles, you may need to look in additional research databases. The below databases are also recommended for this assignment.
ERIC

Authoritative database of indexed and full-text educational literature and resources; contains many full-text documents dating back to 1966; includes records for a variety of source types, including journal articles, books, conference papers, curriculum guides, policy papers and more.

Psychology and Behavioral Sciences Collection

Comprehensive, full-text database covering psychology and psychiatry topics such as emotional and behavioral characteristics, mental processes, observational and experimental methods.

Social Sciences Full Text

Covers the latest concepts, theories and methods from both applied and theoretical aspects of the social sciences, full-text resource provides access to the most important English-language social science journals.
Search multiple databases at the same time by selecting Choose Databases.
Step 4: Find Documentary or Educational Videos
Academic Video Online

More than 62,000 video titles spanning the widest range of subject areas including anthropology, business, counseling, film and more. AVON includes every kind of video material available with curricular relevance: documentaries, interviews, performances, news programs and newsreels, field recordings, commercials, and raw footage. Users will find thousands of award-winning films, including Academy®, Emmy®, and Peabody® winners as well as the most frequently used films for classroom instruction, plus newly released films and previously unavailable archival material.

Films on Demand

More than 30,000 individual videos across all subject areas from producers including BBC, HBO, History Channel, PBS, and dozens of others.
When searching for videos, enter brief searches. Enter the Education theorist's last name or simply the theory.
6 Education Theorists That All Educators Should Know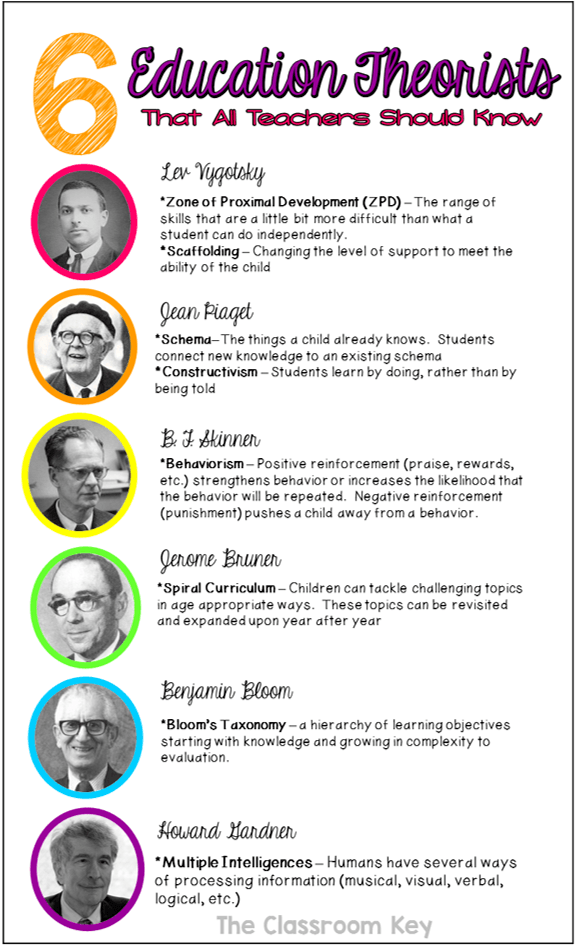 Image credit: elearninginfographics.com
| | |
| --- | --- |
| Name | Theory |
| Lev Vygotsky | *Zone of Proximal Development (ZPD) - The range of skills that are a little bit more difficult than what a student can do independantly. *Scaffolding - Change in the level of support to meet the ability of the child. |
| Jean Piaget | *Schema - The things a child already knows. Sudents connect new knowledge to an existing schema. *Constructivism - Students learn by doing, rather than by being told. |
| B. F. Skinner | *Behaviorism - Positive reinforcement (praise, rewards, etc. strengthens behavior or increases likelihood that the behavior will be repeated. Negative reinforcement (punishment) pushes child away from a behavior. |
| Jerome Bruner | *Spiral Curriculum - Children can tackle challenging topics in age appropriate ways. These topics can be revisited and expanded upon year after year. |
| Benjamin Bloom | *Bloom's Taxonomy - A hierarchy of learning objectives starting with knowledge and growing in complexity to evaluation. |
| Howard Gardner | *Multiple Intelligences - Humans have several ways of processing information (musical, visual, verbal, logical, etc.) |
Ebooks Available on Education Theory and Practice